---
---

Trevon Baker Workshop




Eighteen professional photographers attended the Trevon Baker Workshop held at the
Learn and Earn Center
at Virtual Backgrounds. Trevon is well known for his very congenial way of teaching both basic and advanced portrait photography. While the primary emphasis was on professional lighting and posing, Trevon also placed special emphasis on the successful integration of Virtual Backgrounds into the portrait.
Trevon has spoken throughout the
United States
,
Canada
,
Australia
,
New Zealand
,
Mexico
and
Korea
. Additional Trevon Baker classes will be scheduled later in the year and early next year.
---

VB Mailbox Mail from a
Nigerian Photographer




Dear Sir,
Just read your awesome book,
The Perfect Storm
. Got a copy from Christian who has been extremely professional and kind. Right now I am experiencing the perfect storm and am very ready to get out of the storm. I have read the book twice and absolutely agree with you. I want to soar above the storm. All I have to say concerning the photos I have seen with the Scene Machine is
W0W!
I am extremely grateful that you developed this awesome technology. As soon as I can, I will buy the book,
Background Power!
You will definitely hear positively from me.
I have been telling my wife all about the Virtual Backgrounds system. I am on my third reading and will also watch the setup DVD again. I am already planning on my marketing strategies based on tips from the Perfect Storm. I can imagine what I will learn when I get hold of the
Background Power!
book.
I must tell you sincerely that I am in absolute love with the product you are offering. I am a photographer with an emphasis on creative photographs. As I write, business is bad. I have experienced my clients having more superior cameras than me. Reading the book was just like viewing a mirror of how my business is right now.
My wife is kind of skeptical. The problem is that many of us professionals over here use similar software, so the jobs go to the more established guys. I am just two and a half years into professional photography and it's my life. My wife has heard so much about this that I am sure she thinks that I am possessed and obsessed by Virtual Backgrounds.
Thanks for making a way out of the storm. Right now, I will consume any product or tool that will get me out of the storm
.
I think I got the Virtual Background fever, and the only cure is to buy one as soon as possible. The Virtual Backgrounds is like a taste of extreme honey and sugar mixed together given to me in a teaspoon. I know once I get the
Background Power! book
, I will be having serious bouts of Virtual fever. My wife is a pharmacist, and I know that there will be no drug that can cure me except I get this technology. It's like I found something more than gold!
You should be nominated for a Nobel prize in the category of arts or business if there is anything like that there. If not, they should create a category for you, sir. God bless you, your family,
America
and my much beloved family, and country
Nigeria
.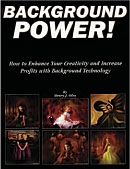 ---

Knowledge IS Power!




The key to success in just about any endeavor is knowledge. Virtual Backgrounds is dedicated to photographer education. The more people know about Virtual Backgrounds, the more they are likely to become users who earn high profits.

Some of the most aggressive users of Virtual Backgrounds are the newbies rapidly coming into the photography business. They are hungry and constantly seeking out ways to upstage the long established studios. They are much more willing to invest and use the specialties to build their business.

When it comes to Virtual Backgrounds, there is a wealth of educational information available including hard copy literature, this monthly eNewsletter, and our extensive website with literally thousands of sample photographs created by successful Virtual Backgrounds users.

The proof is there for anyone with a willingness to learn about technology that can help to propel them to new levels of success.


---
Joseph and Louise Simone Images - Truly Unique!
All images shown here were taken as part of recent Simone workshops held at Virtual Backgrounds.


































---

Send Us Your Thoughts!


If you have any experiences with Virtual Backgrounds that you would like to share with the readers of
The Backgrounder
, please write to us at
[email protected]
Perhaps you have had an especially successful experience, or perhaps you solved an issue that would be helpful to others. Let us know and we'll share it with the readers of
The Backgrounder
!
Virtual Backgrounds is not only a photographic tool, it is a phenomenal marketing tool as well. It is perhaps the most powerful marketing tool a studio photographer will ever own!

Start thinking about how your Virtual Backgrounds system can be used as a marketing tool to bring in more clients and higher sales averages. Here are some ideas on how to do just that.

Professionals should constantly think of what they can do to bring new magic to their product. This new magic must be highly attractive to the public but also something that the public cannot achieve on their own no matter what cameras and accessories they purchase.

The professional photographer must first recognize that the background is a very powerful component of a photograph and that the manipulation of the background and related photographic elements can clearly distinguish their product from others and make it highly desirable to their public.

Backgrounds can complement the subject in so many ways including color harmony, tonal quality, and theme setting. The theme setting qualities of the background are the most important components. It basically means that once the photographer has a theme concept in mind, then he must choose the appropriate theme-related background and couple it with a properly dressed, posed and lit subject with the proper expression and complimentary props. The professional creates a comprehensive product. While it may look candid, it is exactly the opposite. It is a carefully contrived and composed professional portrait that tells a story about the subject. Amateurs take snap shots, and professionals create portraits.

Besides creating beautiful and timeless portraits, the photographer can develop specific, customized backgrounds used for individuals or groups. Imagine special football backgrounds for football players. This is not just some fake-looking, painted canvas with a generic football scene. The background could be the football player's own football field, perhaps even with his team on the field. There are infinite variations of this concept. Try to imagine the uniqueness of having the subjects own band as their background for their individual portrait. Think of special military backgrounds for those in the military, business related backgrounds for business executives, or church related backgrounds for church directory photographs. Yes, it takes a little extra work, but the creative results can be dramatic and just what your public desires!

Here is where the powerful marketing comes into play: If you show the public highly attractive and very different images that no one else is offering at any price, then you have something unique and desirable. This is what catches the public's attention and leads to bookings and subsequent sales. It is the background, coupled with good photography, that is the key to standing far above other photographers and also far above anything the public can independently produce.

Start thinking about Virtual Backgrounds as being an extremely powerful marketing tool which reaches out and pulls in lots of customers!


---
Virtual Backgrounds has just released a new DVD by
Montana
photographer, Trevon Baker, which covers the basic installation and operation of a Virtual Backgrounds system. The DVD is available free with every new system shipped from this point forward. All current owners of Virtual Backgrounds systems can request that a free copy of this DVD be sent to them. Simply
contact
your consultant at Virtual Backgrounds for your free copy today!
---
Unlimited Technical Support
Whoever Heard of That?




Unlimited technical support has always been fundamental to Virtual Backgrounds. Virtual Backgrounds system owners can
contact us
for assistance with no time limits and no limits on the number of times you call as long as you are the original purchaser of the equipment. Virtual Backgrounds is here to help maximize the success of each system owner.
In addition to unlimited tech support, system owners are also strongly urged to attend a three-day training
workshop
(a $495 value) which is free to new system owners. Virtual Backgrounds is a highly comprehensive concept that has far more power and more applications than the typical photographer realizes. Come to the workshop and discover this powerful tool. Even long term system owners learn new applications that they hadn't thought of before. Throughout the year, Virtual Backgrounds also offers a number of photography and marketing-related workshops to help photographers expand their array of ways to grow their businesses.
Remember, we are here to help you!
Contact us today!


Diane Wilson, the well known
Toronto
"flea market photographer," is presenting a completely new workshop July 17 - 18, 2008 on how professional photographers can succeed at themed portraits. Themed or fantasy portraits are a rapidly growing new profit center for professional photographers. Because they are so unique, amateurs do not do themed portraits, no matter how expensive of a digital camera they may own.
Diane owns and operates
Until Dawn
, a portrait studio located in a major indoor flea market in
Toronto
. It is open on Saturdays and Sundays only. Even though Diane has minimal space, she has a thriving business and uses her Scene Machine in just about every portrait she captures.
Diane has been exploring visual images with a camera since childhood. For more than 20 years, Diane was involved in live children's theatre and taught and performed her own one-person puppet shows across
North America
. In 2005, she devoted her time and talent to the creation of fundraising calendars called
Fairy Tales of Hope
(
www.fairytalesofhope.com
). She has helped to raise $50,000 for this charity.
Before the opening of
Until Dawn
studio, Diane had no way to combine her passion for theatre and photography. Her unique style has won her praise and recognition from customers and other photographers. She is now devoting considerable time to teaching her style.
At
Until Dawn
, creative imagination is endless. Diane brings clients' dreams to life. Diane says, "We do not cut your image out and place it into a scene. We are truly an artistic studio. Almost all of our props and costumes are hand made and each set is created just for the customer. Everything is seen live in the camera and then captured. It's all made possible by the Scene Machine Virtual Backgrounds system."
Diane is always developing and making new props, costumes and backgrounds. Many customers are becoming
Until Dawn
collectors. As such, Diane must always strive for something new so her customers will come back again and again.
Themed portraits were initially pioneered by Anne Geddes, Cindy Baxter and Lisa Jane Murphy. However, Diane Wilson puts a whole new look on the concept by using her Scene Machine Virtual Backgrounds system which enables her to have hundreds of spectacular and different backgrounds that can be changed in seconds. "Without the Scene Machine, photographers are very limited in what they can do," states Diane.
Themed portraits with Virtual Backgrounds are the future for this kind of photography. Diane further states, "Virtual Backgrounds has made it so easy to do themed portraits, in the studio or on location. I can't imagine working without my Scene Machine."
Because backgrounds are the key to themed portraits, Diane Wilson is developing a number of themed portrait background sets. The set consists of 12 beach scene backgrounds and includes a special floor cloth that photographs very much like beach sand. Her kit also includes instructions and sample prints. The price is $250. For additional information, contact Diane directly at 705-436-2718. After July 30, the price will be $299. With the Scene Machine Virtual Backgrounds system, a whole set of 12 themed backgrounds costs far less than one single canvas background! That's the beauty of Virtual Backgrounds. You can see Diane's work on her website at
www.untildawn.com.
Call Virtual Backgrounds at 1-800-831-0474
to register for Diane's workshop.

---
Featured Photographers
Joseph & Louise
Simone




Joseph and Louise Simone are known world wide as two of the greatest portrait photographers and teachers in the industry. Not many people know the details about their history and how they rose up from their humble beginnings to a position of true prominence in the world of professional photography. They do not know how they started to use Virtual Backgrounds and make it one of their most important tools to help further enhance their work.
Joseph Simone was born in
Italy
and at the age of just 14, he studied industrial design and then immigrated to
France
where he worked for ten years for different companies as a "turnmaker." The turnmaker is the person who works on a master design which is then copied for mass production. It must be perfect. Always looking for something different, Joseph decided to move choosing between Africa or
Canada
. He finally chose
Montreal
where he started selling photographs for a studio photographer. This is where he began his love of photography and where he also met Louise. Joseph soon decided that it was time to open his own studio which he named Photo Studio Louise. Joseph and Louise married in 1972 and Louise then became actively involved in photography in 1974.
Louise was born in
Montreal
and wanted to become a painter. From a very early age she showed exceptional talent in art, including being able to draw a face from scratch as a teenager using pastels or charcoal. Her father wanted her to become a teacher and discouraged her artistic endeavors, but the drive to be a true artist dominated. Meeting and marrying Joseph cemented her future.
In 1974, the Simones purchased an established studio in
Montreal
and did every type of photography that came in the door including weddings, first communions, baptisms, portraits, and commercial. It was in 1977 that they first heard about the Winona School of Photography, and they began taking courses to upgrade their understanding of true professional portraiture. They wanted to be fundamentally different. As a result of learning from great mentors like Don Blair, the Simones decided to move away from production photography and concentrate on producing only the highest quality images. The studio name was changed to Simone Portraits.
They decided that they could learn from the great master painters of the past, so Joseph and Louise spent a large amount of time in art galleries studying the fundamental factors that are common to timeless images. They then applied these principles to their own studio work. Almost immediately, they began winning awards including being named
Photographers of the Year
many times by the PP of
Canada
. Both Joseph and Louise quickly earned their Craftsman and Masters degrees. Joseph recently received his Fellowship from the American Society of Photographers. Both Joseph and Louise have been inducted into the Photographic Craftsman organization.
Five years ago, Sam Pelaia and Terry Deglau suggested to the Simones when they were teaching at the
Texas
School
that they drive to
San Marcos
to see the Scene Machine Virtual Backgrounds system. They had been only vaguely aware of its existence. Within hours of first seeing it, the Simones knew that it had to become part of their "tool box." Backgrounds had been an important part of their work but the Scene Machine made backgrounds so much easier to create and added infinite variety. Today, they use Scene Machine for about 75% of their work and their results are impeccable.
After spending a great deal of time over the past 15 years teaching their methods all over the world, the Simones have a dream that is now coming true. Together with Joseph's brother, they have a true vineyard, the Cote de Vaudreuil, 30 minutes west of
Montreal
. It is a very serious vineyard. They just planted another 4000 new vines last year. Their wine will be commercially available including plans to produce ice wine. Every vineyard has to have a Chateau and the Simone Chateau is where the Simones are now teaching their methods to photographers who travel from all over the world. Of course, wine-tasting is part of the class as well. Teaching at their Chateau greatly reduces their hectic travel schedule although they are also teaching this fall a special class in Tuscany Italy. One place is still available in the
Tuscany
class.
Click here for more information.
Four years ago, he Simones published a phenomenal "coffee table" book of their work titled
The Portrait - Mirror of the Soul
. The book was so special that many of those who purchased the book were not photographers but rather people who appreciated fine art photography and wanted the book for display on their coffee table. Professional photographers use it as their "bible." The Simones are now working on a DVD training program as well as planning their Tuscany Italy program. Their appearances on the national circuit will become more rare, but they are scheduled to once again teach a five-day class at Virtual Backgrounds this November. Participants in a Simone class come away with a whole new appreciation for classic timeless portraiture.
The Simones style is clearly recognizable in all of their work, perfection, and timelessness. They don't shoot dozens or hundreds of photographs when doing a session. They capture a minimal number of really great photographs. That's the nature of a timeless Simone portrait. Studying with the Simones is indeed special.
Contact us
for more information on the upcoming Simone class in San Marcos.
Click here
to be directed the Joseph and Louise's website.