---
---
Make Some New Year's Resolutions That Can
Save Your Business!


As 2007 comes to an end, it is time for all of us to look back over the year and also look ahead to 2008 and beyond. Chances are
The Perfect Storm
has been hitting you. You may be finding it harder to attract business resulting in decreased sales. Unfortunately, the forecast is for the storm to get worse and it will never end. The changes that have taken place in technology and in society in general are here to stay. The only alternative for professional photographers is to understand what is happening and make major changes in how they operate their photography business. Success is still an option!
A major part of this issue of
The Backgrounder
is being devoted to the realities of the revolution that is affecting just about everyone in the photographic industry, not just portrait photographers, and how we can overcome it.
---
An Assignment You Must Take If You Are Interested In Reality
If you are really interested in saving your business, let alone growing it, there are some things that you absolutely must do. One of them is to visit the competition and get a realistic view of what is going on in the world today that affects YOU in so many different ways.
Start by visiting the Sam's Club Photo Lab as well as Walgreen's, CVS, Target and others. See what they are doing and what they are offering. Talk to the clerk about the work and services they provide and what they charge. Because they enable your customers to bypass you, places like Sam's Club and the like are indeed your competitors. They may even be copying your work and making big beautiful prints for your customers for a small fraction of your price.
Next force yourself to visit the photo studios in Wal-Mart, in Target, in JC Penny's and in Sears. Better still, take one of your children or grandchildren to each retail store studio and pay for a sitting and then get the sales pitch. Observe, record and learn.
Go to your yellow pages. Count the number of photographers who are listed. Find out what they do and what they charge. Look at their operation and ask yourself why your potential customers would hire them.
Go to your own location. Critically look at your facility. How do you really look to your potential clients? How professional does your studio truly look? How good are the products you are putting out every day? Why should a client come to you instead of another photographer? What makes you special? Why should a client come to any professional instead of doing photographs themselves and then allowing their kids to use Photoshop on them and then taking them to Sam's for printing?
Find a way to go directly to the public. Invite selected potential customers to a forum. Offer them a free dinner or something appealing in exchange for participation. Find out their needs and what they look for in a professional photographer. Find out how they feel about doing their own photographs with their personal digital cameras. Show them samples of professional work and get their reaction. Discuss pricing. Be sure to do a forum with high school juniors to learn about current teenage trends.
This could be one of the most important exercises you will ever perform. Photographers who refuse to do this are afraid of what they will find. You, however, really can't be successful in business if you do not know your customers and competition and have a realistic view of your entire operation, as seen by the public.
Make a New Year's resolution to do this NOW. You can't afford to wait.
---
Marian Oles Gets a First-hand Look at The Storm



Marian Oles needed to have some of her images printed quickly for immediate delivery. So she did what so many professional photographers are doing today - she took the files to Sam's Club. As she stood in line, she observed what the woman in front of her was ordering: 3 - 16x20 prints, 45 wallets and some other sizes as well. This was an amateur with a digital camera ordering wall size family prints that once were the exclusive domain of the professional, and the prints didn't look all that bad. They were certainly "good enough" for her needs. This meant that this woman saw no need to go to a professional photographer.

This is reality today. We have to face it square on. Amateurs are getting amazingly good results with their own digital cameras that are automatic everything. What makes it worse for the professional is that the public can go to many thousands of places to have even wall size images made in minutes for just a few dollars. When Marian spoke with the lab operator, she learned that this particular Sam's was also printing a lot of work for professional photographers in the area. The vast majority of Marian's work is still sent to a pro lab and the results are usually better. Here again, Sam's is good enough for the amateur and good enough for many professionals. Sam's even has an occasional special on producing 30 x 40 stretcher frame canvas prints for a ridiculously low price.

Everyone in photography including pro labs are facing this challenge. Many of our photography organizations are having a hard time. There is only one alternative, besides closing the doors, and that is to rise above and offer services and create products that the amateurs cannot on their own.


---
The Storm is Not Just Affecting Portrait Photographers


Last week we had a call from a career medical photographer looking for ways to get into portrait photography. He lost his job at the hospital to an amateur equipment operated. The same story applies to many commercial photographers. For example, how many real estate photographs are taken by a professional today? Almost none. Realtors do their own now. This story is repeatable for almost every common branch of photography - the professionals are being replaced by amateurs with easy to use digital cameras.
Want to get your hands on a Scene Machine Virtual Backgrounds system? What to get the latest information? Come to PPA's
Imaging USA
in Tampa, Florida where Virtual Backgrounds will occupy one of the larger booth spaces with a full demonstration studio in operation and a large gallery of images created by many different photographers using the Scene Machine.
Trade show dates are January 5, 6 and 7.
Contact
Virtual Backgrounds for more information as well as trade show passes.
---
Upcoming 2008 Trade
Shows and Workshops


January
6-8: Imaging
USA
(
T
ampa,
FL
)
14-16: VB workshop (San Marcos, TX)
24-28: PPA of
Kentucky
31 - 2 Feb: PMA in
Las Vegas
February
8-11: PPA of
Indiana
11-13: VB Workshop (San Marcos, TX)
16-20: SWPPA (
A
rlington,
TX
)
15-17: PPA
West Virginia
22-27: PPA of Virginia
22-25: ProPhoto (
California
)
27-1 Mar: PPA of
Ohio
March
2-4: PPA of
Idaho
3-7: Simone Workshop (San Marcos, TX)
10-12: VB Workshop (San Marcos, TX)
14-21: WPPI (
Las Vegas
)
16-20: Mid
America
PPA
(
Illinois
)
April
7-9: VB Workshop (San Marcos, TX)
11-15: Heart Of
America (
C
ouncil Bluffs,
IA)
13-15: PPA of
Montana
20-24:
Monterrey
Mexico
workshop
---
Cover Your Props Like Larry Peters with Remnant Reflective Material


Contact
your friendly consultant at Virtual Backgrounds for remnant reflective screen material that you can use to cover your props or anything you wish to get them to "light up"! It's only $5 per square foot.
---
New Accessory for Virtual Backgrounds Prop Set


Watch for a formal announcement of a new accessory for the Virtual Backgrounds brick wall and steps prop set. It's nice addition that gives you more flexibility than ever with a single set of props.


Notes from a Happy Virtual Backgrounds Owner:


I just wanted to let you know that we've made close to $4,000 in sales so far on Santa (three ½ days, one full day). Not too shabby, especially since all I've done is email everyone from last year. I have another possibility this Sunday at a local high-end shop where we will we will set up in their space. Then next week I have two more dates at another location for Santa pictures. I have to tell you that my wife and I have worked our rears off! So far I've paid the Santa just $500. He thought I paid him too much! What a guy. I'm really lucky to have him.
Everyone was so thrilled to get their pictures immediately after the sessions. Of course, they loved the background system. Oh, you won't believe this. On the 1st and 2nd of December, I'm doing another special Christmas event sort of like a prom for adults. It's an annual event and LOTS of money exchanges hands there! They are giving me a retail space to use. I just have to give them $5 per $45 sale. We're setting up Virtual Backgrounds, of course! I'll let you know how it goes.
---
Same Old Same Old
Leads to Extinction


There was a time when a photographer could produce a very limited style of work and still succeed. The lights were fixed in place. The subject sat on a fixed posing stool. The photographer had perhaps 3 or 4 canvas or paper backgrounds mounted on a roller system and only one or two were pulled down per sitting. The photographer took a half dozen exposures with the same poses he used for years. This was the standard operating procedure for a great many studios for many years. These are the exact same studios that are now suffering the greatest amount of devastation from the Perfect Storm. The public simply has minimal interest in such traditional, simplistic photography.
Yes, there is a time when a standard traditional portrait with a canvas background is appropriate such as in one's business or for publicity. However, if this is the only "look" that is created, the subject will invest only a bare minimum in these photographs.

Typical old-fashioned studio portrait.
Today, many photographers think they can solve the problem by going outdoors and working on location in the park. This use to work, but today, the park is where everyone can go to take photographs - amateurs and professionals alike. The park is the public's studio. Sure you might think that you do a better job than they would, but in reality, with their digital cameras, they can come up with some really good images.
The professional today must provide maximum variety, contemporary images combined with traditional images that the amateur cannot do themselves, even if they own an expensive digital camera. The professional has never before been so challenged to step forward with the newest technology and ideas to entice the public that there are still valid reason to visit the professional studio.
---
Dare to Take a Serious Look at Virtual Backgrounds


If you were physically dying, would you not want to search out any product, any medicine including non-traditional medicine or methods that have possibly a chance to save your life or at least make it better? Of course, you would! If your business is sick and perhaps dying, why would you not want to frantically search for anything that can help save it?
Amazingly, many photographers tend to look only at the "same old, same old" items that may have no affect at all or may actually be part of the illness. We see this at trade shows all the time. Attendees gather around the old traditional products and feel like they are going to conquer the world with the new muslin background they picked up for half price! Go figure!
Starting with the PPA national convention in January, make a New Year's Resolution that you are going to go through a trade show slowly and carefully with the express intent of finding products and other ideas that can seriously help you fight the storm. If you don't find ways to plug the leaks, the ship will sink.
.
---
Annual Print Competition

It's time to start gathering up your best prints to submit for our
Annual Print Competition
. More details
coming soon
!
Click here
to view last year's winners!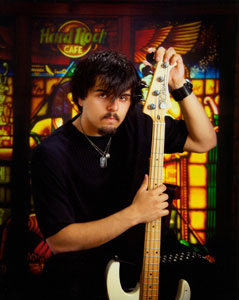 Image by Cindy Cofer


---
Send Us Your Thoughts!


If you have any experiences with Virtual Backgrounds that you would like to share with the readers of
The Backgrounder
, please write to us at
[email protected]
Perhaps you have had an especially successful experience, or perhaps you solved an issue that would be helpful to others. Let us know and we'll share it with the readers of
The Backgrounder
!
The
San Marcos
based team at Virtual Backgrounds wishes all of you the very best in holiday wishes. It is our intent to help you, our customers, grow your business, enjoy what you do, and have even more prosperous new years ahead by helping your customers with their professional photography needs. It's an adventure we all share. We thank you for the relationship we have had and look forward to serving you in the future!
---
A number of potential registrants had to be turned away as we reached our capacity for the two Chris Wunder workshops held at Virtual Backgrounds in
San Marcos, Texas
December 10 and 11. The first workshop provide attendees with a detailed blue print on how to get into the very profitable world of doing Church Directory photography which has normally been controlled by Lifetouch and Olan Mills. Today, it is possible for the local photographer to provide better service and a better quality product to keep the business local. The second workshop covered how to take advantage of the many opportunities in event photography. Chris discussed the many advantages of using the Scene Machine Virtual Backgrounds system to help differentiate the local photographer from the national chains who tend to provide very plain traditional photography. Virtual Backgrounds enables the local photographer to offer distinctively different services.
Chris Wunder will be doing his special school photography program as part of PPA in
Tampa
. This workshop will start a day before the convention begins.
Contact PPA
for further information.
Nikon recently put this ad on You Tube. You owe it to yourself to look at it and fully understand the implications to professional photographers. The point isn't that Nikon gave away 200 D40 digital cameras - it's the excitement, the enthusiasm, and the results these everyday people get with their super automatic digital cameras. We cannot stop the advancement of technology. We can only respond to it!
Johann Miller states -
The main concern I have with green screen is the time investment and the overspill as a result of the huge green background. Spill is something you get on every single picture and it is labor-intensive to remove this from your pictures especially when you have a large number of pictures to process. It doesn't matter how careful you are with your setup, there will always be something reflecting the background. I have been using green screen for 1.5 years now and my investment was around $1200 with the software and backgrounds - OK, maybe a little more.

What appeals to me with your technology is exactly what you state - no post processing to replace the background. I can show the customer the results directly after the shoot. With green screen, it is very difficult for the customer to understand what the final picture will look like and they might not even pick a good picture because they don't like the green background. There are many challenges to working with green screen.

This pretty much sums up the story about green screen versus optically created Virtual Backgrounds. Green screen is a method that is primarily best for special effects photography, such as making people fly. Professional portraiture is much better when created with the optically based system for the following reasons:
1. The photographer sees both the subject and the background live in the camera viewfinder enabling him to compose the total image.
2. There is no time-consuming post capture work to do. The background is in place the moment each photograph is taken. The photographer can show the results instantly.
3. The image quality is significantly better. There are no green halos around a subject. The photographer does not have to mess with trying to properly light the green background. Green screen is primarily meant for the TV and movie industries, not professional portraiture.
The latest optically based Virtual Backgrounds system can be set up just as quickly as a conventional canvas background studio. The cost is a very moderate investment that quickly pays for itself with new and larger sales. Take a closer look - you'll be glad that you did.
---

The Studio Pro Monostand is
Temporarily Out of Stock


Click here to enlarge above image.

The new Studio Pro monostand has been so successful that we are now temporarily out of stock. The next shipment of stands is expected to arrive at the end of January and advance orders are being accepted. The monostand is the perfect camera support for the professional studio photographer, enabling the camera to quickly be adjusted from almost ground level to above eye level. The Studio Pro is counter balanced to make raising and lowering the camera easy and quick. The Studio Pro monostand has a very professional appearance. The photographer no longer has to hand hold the camera like the amateur photographer does. When the camera (with or without a background projector) is securely mounted on the Studio Pro monostand, the photographer is free to work with the subject and the lights to get that perfect shot.
Contact
Virtual Backgrounds for further information.
---

Cold Scene, Warm Environment
in Cindy Cofer's Kentucky Studio

Instant Snow - Instant Fun - Instant Cash!


It hasn't snowed much at Cindy Cofer's
Kentucky
studio, but that doesn't keep her from getting great snow photographs for her customer's Christmas cards. She just uses her Scene Machine Virtual Backgrounds system with snow images taken at Vail,
Colorado
several years ago.
---

2007 Workshops Were a Great Success!
Get Ready for a Fun-Filled 2008


The November Virtual Backgrounds Workshop was the final class for 2007. The monthly three-day workshops covering all aspects of Virtual Backgrounds will start again in January.

Row 1 - (kneeling) Lisa Mitchell, Lori DeRowen, Shelly Blanton; Row 2 - Jim Wilson (Instructor), Neta Lawhon, Patty Cook, Anthony Beasley, Mia Bauer, Jim Bauer, Solomon Nissen, Henry Oles (President); Row 3 - Chuya Moua, Ed Suzuki, Kent Hart, Adam Mueller; Row 4 - Rex-Zane Rudee, Steve Simpson, David Richard, Steve Steiner, Sheriff Ali

Click here for the 2008 workshop dates.


---

Special Three-Day Workshop held for
Professional Photographers from Mexico



Front Row (left to right): Armando Gomez, Nunila D. de Guzman, Magdalena Batiz, (kneeling) Cpp. Cr. Gerardo Medina, Maria E. Batte, Ignacio Cariño Herrera, Gerry Naranjo, Jorge Rojas, and Dr. Henry Oles; Middle Row (left to right): Guillermo Rivera, Horacio Guzman, Manuel E. Gonzalez and Manuel Villanueva; Back row (left to right): Jorge Castillo, Cpp. Cr.Trevon Baker, Alejandro Gonzalez, and Rick Avalos


Virtual Backgrounds held a special three-day workshop that was offered solely to professional photographers working in
Mexico
. Over the years, a number of Mexican photographers have purchased Virtual Backgrounds systems. However, because of language barriers, many of them never put their systems into operation. Still others never fully understood the power that comes with infinite background flexibility.
The workshop was facilitated by three internationally respected portrait photographers and teachers with simultaneous translation: Trevon Baker from
Kalispell
,
Montana
; Rick Avalos from
Pueblo
,
Colorado;
and Jessica Laredo from
Mexico
demonstrated how they use their Virtual Backgrounds system. The workshop was so successful that even though it was supposed to end at noon on Wednesday, most attendees stayed for the rest of the day and several came back on Thursday morning!
Several of the photographers attending drove over 20 hours to attend the workshop. Additional special workshops are being planned in 2008 and will be announced both on our website and in subsequent editions of
The Backgrounder
.
---
Joseph and Louise Simone will be teaching a five-day school at Virtual Backgrounds on March 3-7, 2008. This is one of the very few schools they will be attending in 2008. The Simones are widely considered to be two of the best portrait photographers and instructors in the world today.
The Virtual Backgrounds Scene Machine has become one of the Simones' most important tools to help them extend their creative horizons. However, in this workshop, the Simones will share a wide variety of techniques that they use to create their masterpieces.
Don't miss out on this special opportunity that can help take your portraits to a whole new level. The cost of this five-day course is $495.
Contact us
for more information and to reserve your space in the class.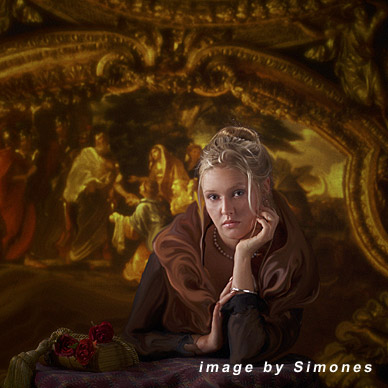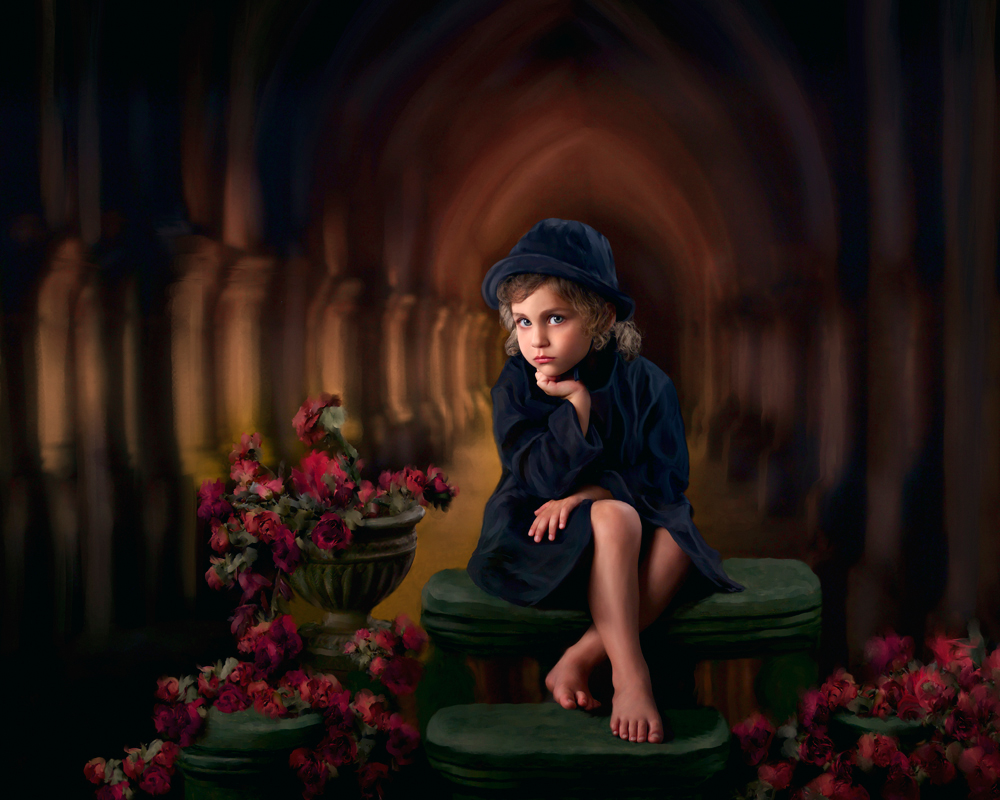 ---

Special Update:

Flea Market Photographer
Diane Wilson
Opens Traditional Studio!


The February edition
of
The Backgrounder
ran a special spotlight article on Canadian photographer, Diane Wilson. Diane has been running her entire operation out of a small space in a flea market, open only on Saturdays and Sundays. We gave you a glimpse of her flea market studio operation in the
October issue
of The Backgrounder. Diane's specialty is enchanted portraits of children.
Now, her business has grown to the point where she has also opened a nearby much larger traditional studio so that she can work more than just two days a week. She is super excited about her new location.
Because it serves as a phenomenal marketing tool, Diane plans to keep her flea market studio running. Thousands of shoppers pass her flea market studio each weekend and view her work. They can observe while she works with the children. If she cannot fit clients in for an immediate portrait, she can now schedule time with them during the week in her new studio! Keep up the great work Diane!